By Richard Amos
On-demand automated self-service, elasticity, utilization transparency, and resource pooling are all core aspects of workload efficiency. It was the public cloud providers that initially improved upon the. these concepts, propelling a new way of working that enabled organizations to scale. Embed micro-services, containerization, Agile, and DevOps within this transformation and suddenly technology's ability to deliver new business outcomes could approach demand from business counterparts. 
With the evolution of cloud computing and the corresponding deployment models from public cloud. It follows, then, that the critical elements of a cloud adoption framework involve changing how the organization works, regardless of where the services are consumed. Today, public cloud providers have embraced the concept that some workloads will remain on premises in a private or hybrid cloud. There are no challenges that cannot be solved to enable an organization to attain cloud benefits throughout their delivery ecosystems. As a consultant, and previously a CTO, I believe cloud adoption starts by accelerating the organizational change required to adopt a cloud everywhere capability. Let's explore the benefits of "cloud everywhere," the key areas that need to transform, and an actionable plan.
To be certain, cloud everywhere does include workload rationalization and optimization, but the benefits that impact business outcomes are less about placement and more about the quality, speed, and reception of new client-facing services. Executive leadership cares about growing market share, improving margin, and potential market disruption. Consumers do not care where the resources and services are being executed, today they just want seamless access to them.  From an IT perspective, how does the operating model support time-to-market, agility, customer centric design, and cost attribution?
How do workloads impact strategy?
Digital transformation strategy should include enabling the benefits of a cloud operating model across the entire ecosystem of public, private, and hybrid clouds. Many firms today are operating in a multi-modal approach, where some parts of the organization are straining to utilize modern delivery approaches and other parts are resisting the transformation. Leveraging an agnostic cloud adoption framework, enables buy-in to the process, allowing these benefits to be achieved everywhere.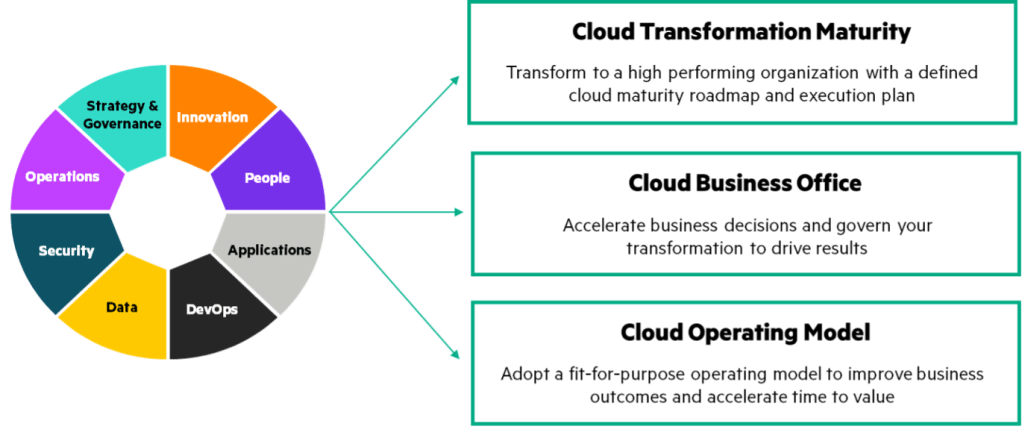 HPE
Without a framework this process largely becomes unmanageable. Service providers have their own versions; however, they are focused on making technology and service supply choices. The HPE Edge-to-Cloud Adoption Framework is the only one that is focused on the modernizing the operating model considering edge and IoT needs while incorporating the end customer or employee experience. It is designed around eight key domains of transformation with the purpose of modernizing the approach to information technology and workload delivery. From enabling innovation, advocating cultural change, and hyper automation, the proven methodology accelerates and reduces the risk of cloud everywhere adoption by building on many successful transformations.
Consider for a moment the benefit of executing a transformation strategy that's core has been leveraged on many occasions and refined through continuous improvement. Deeper descriptions of the eight domains of transformation can be found at the Edge-to-Cloud Adoption Framework website.
Success
I spend the bulk of my time with organizations like the ones I refer to above. I consistently hear from them that there is a strong desire to build a new approach to delivery, but there is little time to dedicate the resources needed to build the strategy and corresponding action plans. One of the unique attributes of HPE's Edge-to-Cloud Adoption Framework, and why I like it personally, is the acceleration created via actionable backlogs.
With over one thousand backlog stories designed to advance the capabilities that are necessary to modernize how information technology operates, strategy realization can be achieved. In place of building a strategy from scratch, the framework allows my clients to quickly benchmark their current state and adopt a customized actionable plan within a matter of weeks. These action plans/backlogs include thousands of critical implementation features providing a robust and detailed description of the possible.  With these backlogs being visible across the organization, cross functional transparency enables consistent collaboration and sustainable execution.
Ask yourself this:  are you working with a framework? Is it technology-agnostic? Is it mature and proven? And going back to the opening question of workload placement, is designed to be applicable to technology operations regardless of workload placement?
In essence, a cloud operating model should be synonymous with a modern operating model that is applicable wherever technology work must be done.  In virtually every organization where I have been engaged, I have witnessed the prioritization between business unit demand and technology enablement capacity. With investments in modernizing an organization's operating model, many of these friction points can be eased. Leveraging a strategy accelerator such as the HPE Edge-to-Cloud Adoption Framework and the associated customized backlogs can provide for a visible transformation.  
Learn more about HPE's Edge-to-Cloud Adoption Framework here.
____________________________________
About Richard Amos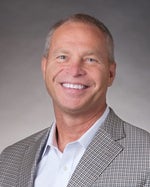 Richard is a Global Transformation Strategist with over 20 years of experience and success in transformational strategy development as a technology leader. He is experienced in building vision and leading change that enables business outcomes. Prior to joining HPE, Richard led technology for a global investment management firm.